Guangzhou is very far away. It is in the far east, the very far east, I'm not sure if you're allowed to say that but…. it's definitely a very long way from Ballydehob to Guangzhou. We departed Ballydehob at 04:00, departed Cork at 07:20, then Heathrow at 12:20, departed Hong Kong at 01:55 the next day (07:55 local time) and finally arrived in Guangzhou at 08:55 local. This is a city and region of over 25 million people, very different from the relative quietness of Ballydehob that's for sure!
After a short freshen up at the hotel and some lunch, we headed to Chinaplas to be greeted by the wonderful team from GSAE who represent Ceramicx in China. As well as being a hard-working technical sales team, Mr. Xu Shan, Mr. Pingiang Li and all the GSAE team are fantastic company. The exhibition complex was very large with over 3,500 exhibitors and 250,000 sqm of floor space in 13 buildings with 2 or more floors. Ceramicx was located in hall 9.2 under the banner of the British Plastics Federation, this was a busy location with building 9 being adjacent to the main entrance.
Following the first day, we visited the new office and location of GSAE in Guangzhou. GSAE have invested in a new office space with warehousing, testing facilities and a small assembly area for components. We were served tea in a traditional method on a carved table made specifically for tea drinking. A social dinner followed in a local restaurant with the Chinese, Taiwanese and Irish team all present and enjoying the local food and beverages.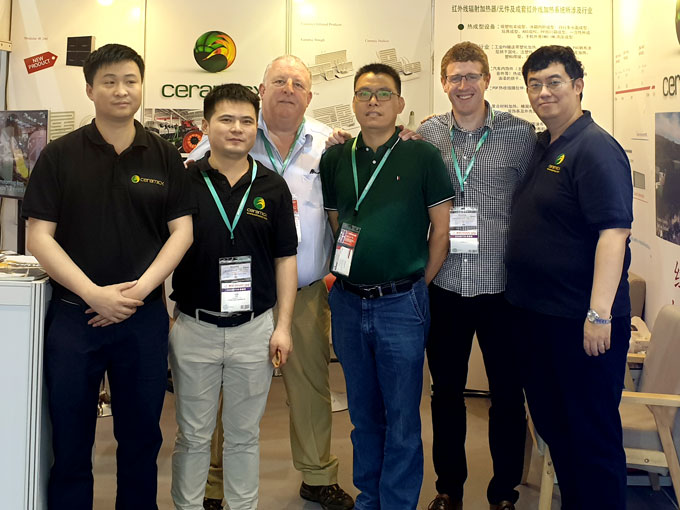 Back to real business during the second and third day at the show for Frank and myself. I started to feel normal as I had found a good supply of mid-morning coffee!! As well as meeting existing customers of both Ceramicx and GSAE and a strong representation from India we had the pleasure of meeting with the engineering team from a very important customer in China. The engineers from Bruckner visited the stand to re-iterate the feedback regarding the good quality and excellent performance of our ceramic heater in their thermoforming machines. It was great to get to meet the end users of the IR heaters face to face and discuss future opportunities.
There was a fantastic show of machinery at the exhibition, both from an IR heater user and from a process automation point of view. There were many new ideas we started to develop while at the show. The trip to Chinaplas 2019 was a successful trip where Ceramicx got to further enhance its reputation in the market and generate further interest from some new contacts.
"Chinaplas 2019, received over 163,000 visitors in total of which 25% were from overseas. The Ceramicx stand located C71 was located in hall 9.2 in the UK pavillion, here we received warm visiting and big support from our old customers. We also welcomed and talked with many professional new customers who were looking for heat solutions. Our cooperation with many OEM's meant our heaters being shown in their machines in the exhibition.
Global leader OEM, Bruckner showed their Chinese-made thermoforming machine with Ceramicx high quality SFEH 600W black coloured heaters.
The Chinese leader OEM SHANTAO AUTO, BLOOM SMART and DONGGUAN HONG HAO had on show machines equipped with Ceramicx heaters.
Ceramicx managing director Frank Wilson visited the stand of DONGGUAN HONG HAO and had a very friendly and in-depth conversation with its general manager Mr Zhang Yong about heating systems and thermoforming machine design.
The engineers from Bruckner also visited our stand and had a warmful talking with Mr. Padraig Courtney."
Mr. Xu Shan, General Manger, Henn Group